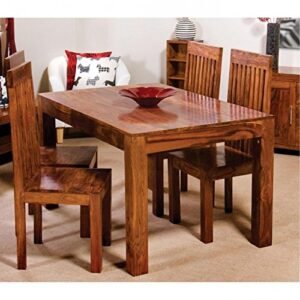 Extendable Dining Table: Upgrade your Living With Folding Dining Table Sets
Wooden collapsing eating table with seats represents style and adaptability. Kick away the shame of eating in groups and expand your feasting table, this thought probably goes over an amiable individual's psyche. This foldable eating table is a useful household item that offers you numerous functionalities with its inventive plan. Get back the comfort as contemporary strong wood extendable eating table sets and partake in the fun of eating together. Assuming you have restricted space in your home, this adaptable collapsing eating table will be an optimal choice for you. Additionally, multi-utilitarian extendable feasting tables online at our furniture display area are the ideal solution for your creative mind.
Purchase Wooden Folding Dining Table Online in Pune
Extendable eating tables have been created from strong wood. We make collapsing eating tables by utilization of genuine wood prepared and afterward completed in pecan, mahogany, and teak completes so you get a quality expansion to your eating space. Our each wooden collapsing eating table with seats online is flawlessly created from top-notch Sheesham and Mango wood that is known for its vigor and tasteful allure. Here, you will approach the wooden foldable eating table online in India in various styles, tones, and plans like contemporary, present-day, and customary. You can pick the one all as per your taste and existing furnishings. You can make Customized dining tables with Airawat Handicraft Customized Furniture Manufacturer in Pune.
Our Folding eating table sets like Advin 4-seater foldable feasting table with seats accompany a little stockpiling cabinet to stuff spoons and so on at a hand's scope. Here, you can get a specially crafted extendable feasting table set with no extra discussion charges. Settle on the decision of wood, length, stature, and size and we convey the most ideal furniture piece which you can alter further according to your establishment and development needs. Simply share your thoughts and plans of the foldable feasting table set or talk with our master, you will get the best wooden extendable eating table set online at the most moderate cost.
Foldable Dining Table with Chairs for Compact and Small Space
The development meets style in our durable assortment of the cutting-edge collapsing feasting table set. Look over ceaseless assortments of foldable feasting tables with seats with fluctuating widths and thicknesses and you can likewise go for a square four-seater having foldable legs. Meet your home outfitting needs with noteworthy furniture pieces comprised of genuine wood of amazing quality. Select furniture from these categories dining chairs, chair cushions, dining table, kitchen cabinets, 4 seater dining table, 6 seater dining table, 8 seater dining table, round dining table, dining room furniture, restaurant furniture at Airawat Handicraft.